On January 20th the entire 6th grade Science class, along with Mrs. Kratz and Mrs. Thomas, went to the Challenger Learning Center for their "trip to the moon"! It was an exciting, hands-on, eventful day! They safely landed on the moon!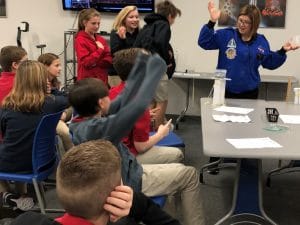 In the afternoon, students worked in groups to build a launch pad using only specified materials. It had to be cost efficient and able to hold a specific weight. We had several groups whose design held the maximum weight of "cargo load"! It was a very positive, rewarding day for all!
To view more images of the students' visit to the Challenger Learning Center, please click here.