Have you ever considered attending Community Christian Academy?
What better way to determine if CCA is the place for you than spending a day with us?
On Friday, January 31st (the Friday before Groundhog Day) come spend the day with us and "shadow" a current CCA student. You will get to experience a day in the life of CCA.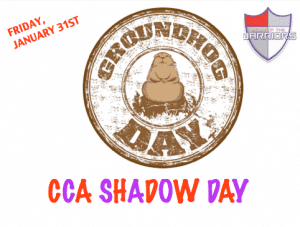 We would love you to see what Warrior Nation is all about!
If you are currently in grades 5th-11th, RSVP your spot by emailing Principal Amy Carrico at amy.carrico@ccapaducah.org.
Pizza Inn lunch is on us! RSVP by Friday, January 24th.
Come see what the excitement is all about!
If January 31st doesn't work for you, feel free to give us another date and we can make it work!